5 Surprisingly Terrible Exercises (& What to Do Instead), part 1
Today's post will be the first in a two-part series. Today, we will be covering 5 exercises that are some surprising no-no's as part of a fitness program, while explaining why these exercises are bad choices (safety and/or efficacy). Tomorrow's post will serve as a recap and explanation as to how these exercises can be safely or more effectively replaced.
Earlier this year, I was on the phone with a close friend (and fellow amputee), discussing the latest in our training. At the time I was pretty occupied training for Paralympic Powerlifting – lifting heavily, frequently, under a very tightly structured program. He was focusing on more of a bodybuilding-style of training, so we chatted about some exercise choices and how we felt they were suited for our goals. He named a movement I hadn't heard of, so I had to ask! He described it to me, and said that he came across it on Instagram. "Instagram?!" almost incredulous – "Yeah, people I follow will post videos and pictures of their workouts, and I'll follow some of their movements"… Interesting!
Workouts get boring, even mundane after awhile – performing the same movements under occasionally varied set/rep schemes is pretty much old hat, so looking to social media for some help in cranking your workouts up a notch can be a wise idea. However, any exercise becomes that becomes a danger to your safety and increases your risk for injury is not one you need to be doing. Before you attempt any sort of new or unfamiliar exercise, be sure to consult with a professional, in person!!! 
1) STANDING SIDE BEND
Somehow or another, this movement somehow survived your mom's mid-80s calisthenics VHS, and continues to be seen in gyms across the world. You stand there, weight optional, tilt your body awkwardly to the side, and absolutely shred off your love handles, right? Not the case. First and foremost, there is no such thing as spot reduction! Think of every "dumb back injury" story you've ever heard – usually such a thing occurs in conjunction with twisting or rotating your spine while picking something up – why on earth would flexing side to side be any better? Consider your everyday movement, when do you ever just lean over to one side like that?!
2) Sit-Ups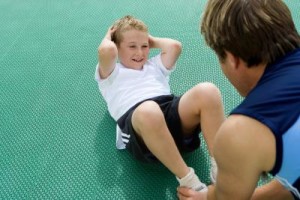 Good old Presidential Physical Fitness Program sit-ups! The government says you should be able to do a certain amount to be considered physically fit, and requires our armed forces to do them, so they must be good, right?! Wrong. It's a shame that something we've come to find is actually pretty terrible for us is also more often than not the first movement people think of when they consider training "abs," Have you ever done a traditional sit-up and felt comfortable? In addition to being terrible for your spine, sit-ups fail to work more than a couple of isolated muscle groups – the core by it's very nature is meant to work in synergy, not isolation.
3) Russian Twists
Okay, I'll admit it – I was a huge fan of the Russian Twist up until pretty recently. It has all the makings of a great "abs" exercise – first, the Russians came up with it, (and they ALWAYS put out quality stuff…right?) and it's a great go-to in terms of difficulty and performance, while getting a great "burn" in the abdominal region. Problem is, in a majority of individuals, spinal flexion and rotation add up to spell disaster – there are plenty of other very useful exercises that can be subbed in place of Russian twists.
4) Hip Abduction/Adduction Machines
Every woman's favorite! Chances are,  you've spent some time in the gym on these machines – maybe not recently, but you've at least tried one of these two out, in hopes of giving you the firm, lifted butt you've always desired (or getting rid of that inner-thigh "cheese"). Just be sure to avoid eye contact while you're on it, right? Aside from the awkward performance of these exercises, the muscles they are targeting are intended to be stable, not necessarily strong, and there are more effective methods to training them!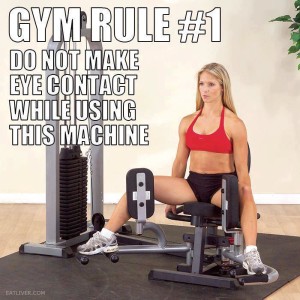 5) Low Intensity Steady State Cardio
Flat out, low intensity steady state cardio (herein known as LISS), is the largest waste of time and effort across fitness facilities everywhere. You'll see results initially because you're creating a calorie deficit, but before you know it, you'll be wasting muscle too! Your metabolism will become adapted over time, to performing at such a suboptimal intensity, and instead of burning fat for energy, your body will resort to protein (muscle!) Unless you're training specifically as an endurance athlete, there is no need for any more than 15 minutes of  "cardio", a few times a week!
Stick around for tomorrow, when we will be discussing the alternatives to each of these exercises.